Millington: Wagner's Music Dramas


10th October 2019




6:00 pm - 9:00 pm
THE DAME EVA TURNER MEMORIAL LECTURE
Barry Millington
Performing Wagner's Music Dramas in the Modern Age
10th October 2019
6pm (Reception) for 7pm (Lecture) to 9pm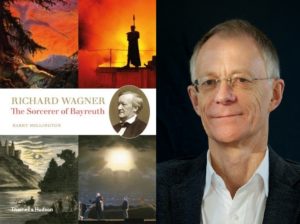 How can we most successfully mount Wagner's music dramas in the 21st century? Are the composer's intentions best served by meticulous reproduction of his mountain heights and forest glades, with minimal directorial intervention, or perhaps by closer attention to his preoccupation with the fusion of text and music in conjunction with stage movement, gesture and character motivation? How far are we, in any case, beholden to the composer's intentions in the postmodern age?
In this wide-ranging, richly illustrated lecture, Barry Millington, the noted Wagner scholar and editor of The Wagner Journal, argues that intelligent engagement with the theatrical dimension is fundamental to any representation of Wagner's works that seeks to realise their full potential.
Barry Millington is Chief Music Critic for the London Evening Standard and founder/editor of The Wagner Journal.  He is the author/editor of eight books on Wagner, of which the latest, The Sorcerer of Bayreuth, was published by Thames & Hudson/OUP in 2012. He also contributed the articles on Wagner and his operas to The New Grove Dictionary of Music and Musiciansand The New Grove Dictionary of Opera. He is a lecturer for Martin Randall Travel, has acted as dramaturgical adviser at international opera houses and co-founded the ensemble Counterpoise.
BOOK OFFER: Members attending this event can include a copy of one of Barry  Millington's books for an all-in price for the event: a) New Grove Guide to Wagner and his Operas (£30); b) A Companion to the Ring of the Nibelung (£30); or c) The Sorcerer of Bayreuth (£40, hardback).
Tickets £20 ( or as above with book offer) including refreshments.  (£5 for Students and under 30s with free membership and if they have previously provided proof of status.)
Tickets are available on this website by clicking the link above. You can pay with a credit or debit card or by PayPal. You can also register for the event and then send a cheque or bank transfer to the Society. If you prefer not to use the website for payment, then please send your cheque to the Society's Treasurer at 15 Gibson Square London N1 0RD.  If none of the above methods of purchasing a ticket works for you, then you can contact us by e-mail at – ticketsecretary@wagnersociety.org
Address:
Barter Street
,
London
,
WC1A 2TH
,
United Kingdom