Doris Soffel in conversation with Christopher Cook


24 January 2021




6:30 pm - 7:30 pm
Doris Soffel in conversation
with Christopher Cook
ZOOM WEBINAR: 6:30PM, 24th January 2021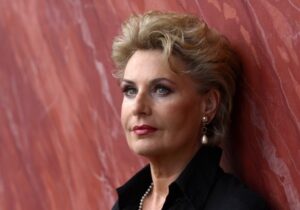 (Photo taken by Boris Streubel)
Doris Soffel
German mezzo-soprano Doris Soffel first studied violin at the Munich Academy of Music, then singing with the legendary Wagner/Strauss-soprano Marianne Schech. During her studies already, she made her debut at the Bayreuth Youth Festival, singing the leading role in Wagner´s Liebesverbot. Wolfgang Windgassen immediately engaged her at the Stuttgart opera ensemble. During the following years she could build up a broad repertoire, including protagonist roles like Carmen, Eboli (Don Carlo) and Octavian (Der Rosenkavalier).
With her sensational success at Covent Garden as Sesto in Mozart´s Titus 1983 and as Orlofsky in Fledermaus (conductor Domingo) 1984 her world career was launched. Sawallisch gave her a lasting guest contract at the Bavarian State Opera, Munich. Since then she has made regular appearances in all big and important opera houses and concert halls of the world. In the 1980ies Doris Soffel became the only German mezzo-soprano with a world career in coloratura roles (belcanto-operas like L´Italiana  in Algeri and  La Cenerentola by Rossini as well as Donizetti and Bellini operas). Her cooperation with Joan Sutherland and Richard Bonynge has been well documented. In French repertoire she conquered the International audience not only with Carmen, but also with roles like Charlotte in Massenets Werther (with Alfredo Kraus) and Marguerite (Berlioz Damnation de Faust). Her exceptional musicality and vocal flexibility also led to cooperation with contemporary composers like Reimann, Henze and Penderecki. She had triumphant successes at world premieres, e.g. at the Munich Opera Festival in 1986 as Kassandra in Reimann´s Troades. In 2019 she had a new great success as Madame Louise in the World Premiere of Glanert´s opera Oceane at Deutsche Oper, Berlin.
With an extraordinary combination of passion, creativity and intelligence, demonstrated already in the Italian and French roles, Doris Soffel grew into one of the most significant Wagner- and Strauss singers of our time. Her early successes as Fricka (Rheingold and Walküre) with Solti in Bayreuth and her Waltraute (Götterdämmerung) with Mehta were confirmed later, at Carsens Cologne-Ring, at Audi´s Amsterdam Ring, at the Dresden Ring, in 2010 at La Scala with Barenboim and in Berlin with Rattle. Her Kundry (Parsifal) with Thielemann and her Ortrud (Lohengrin) with Luisi are legendary. Recently she sang Erda (Rheingold and Siegfried) with Nagano in Hamburg. Doris Soffel´s artistic curiosity and permanent seeking of new challenges has also brought her in recent years to the Slavic repertoire: With Marfa (Mussorgskis Khovanschina), Jezibaba (Dvoraks Rusalka), The Countess (Tschaikowsky´s Pique Dame) and Kabanicha (Janaceks Katia Kabanova) the artist painted extraordinary and touching role portraits.
Today, with her strong vocal expressive power, with her charisma and with stunning acting performances, she celebrates one triumph after the other in strong Strauss roles like die Amme in Frau ohne Schatten (debut in Los Angeles 2004), Herodias (Salome) and Klytämnestra (Elektra).
Doris Soffel has sung with legendary conductors such as von Karajan, Celebidache, Solti, Giulini, Sawallisch, Maazel, Mehta, Sinopoli, as well as Thielemann, Jordan, Runnicles, Nagano, Barenboim, Simone Young and Rattle. Working from the beginning of her career with such significant stage directors as Rennert, Ponnelle, Sir Peter Hall, Jonathan Miller, Friedrich and Kupfer had a great formative influence on her artistry and today she works with directors like Konwitschny, Carsen, Herheim, Loy, van Hove and Tscherniakov.
Doris Soffel also has an impressive career as concert- and Lied-singer, main focus on Mahler, Brahms and Strauss. A strong presence on Youtube and an extensive discography (more than 60 CDs) as well as many DVD productions testifies to the great versatility of the singer and to the beauty of her voice. She is German "Kammersängerin", in 2001 she was awarded with the Royal Swedish Northern Star Order for her important artistic contributions to Swedish music life and she was recently nominated for the German Faust-Price.
Next future plans include Begbick (Mahagonny) in Amsterdam and Zurich, Klytämnestra (Elektra) at Vienna Staatsoper, Madame de Croissy  (Dialogue des Carmelites) at Staatsoper Munich and Liceu Barcelona, Herodias (Salome) at Bolshoi, Moscow and Recitals/Liederabende at the Munich Opera Festival and at Deutsche Oper Berlin.
Christopher Cook
Christopher Cook began his career in television, producing for BBC 2 and Channel 4. He broadcasts regularly on BBC Radios 3, 4, and 5. He is a regular contributor to BBC Music Magazine and has written for Gramophone and International Record Review.  He teaches for the University of Syracuse on their London Programme and for the British American Drama Academy, and was a Visiting Professor at the University of the Arts, London. He has chaired pre-concert events for the BBC Symphony Orchestra, the Orchestra of the Age of Enlightenment, the Hallé Orchestra, the London Philharmonic Orchestra and Study Days at Glyndebourne and at the Royal Opera House, where he also interviews for their 'In Conversation with …' programmes. He has chaired English National Opera's pre-opera series for eight years. Christopher was the Director of the Cheltenham Festival of Literature in 2004 and Chair of the Cheltenham International Music Festival until 2013.
This online event is £5 to all members, £10 for non-members (Refundable on joining) and free for students/under 30s.  Please register your interest below and you will be sent a Zoom link in good time for the lecture, probably during the previous day. (Please do not contact us for the link unless it has not been received immediately before the lecture is due to begin.) If you wish to make a donation, please do so via our website (see button to the right) or contact treasurer@wagnersociety.org.   (NOTE: Joint members intending to watch this lecture together only need to register once.)
Description:

Details to follow