Eric Halfvarson in conversation, with Stephen Brown


14 March 2021




6:30 pm - 7:30 pm
Eric Halfvarson in conversation,
with Stephen Brown
ZOOM WEBINAR: 6.30pm, 14th March 2021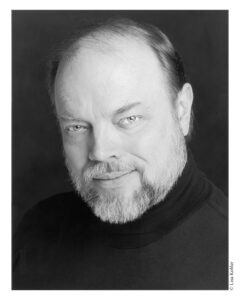 Credit: LisaKohler
Eric Halfvarson- Bass
Illinois born bass Eric Halfvarson sings regularly with the world's most prestigious opera companies and symphony orchestras. His formidable interpretations of such varied and demanding roles as Baron Ochs in Der Rosenkavalier, Hagen in Goetterdaemmerung, Claggart in Billy Budd, Sarastro in Die Zauberflote, King Philip and the Inquisitor in Don Carlos, Heinrich in Lohengrin, Hunding in Die Walkuere and Mephistopheles in Faust have been seen with such companies as the Bastille in Paris, the Bayreuth Festival, The Royal Opera at Covent Garden, The Metropolitan Opera, Lyric Opera of Chicago, the Canadian Opera, La Fenice in Venice, Teatre Liceu in Barcelona, the Bavarian State Opera in Munich, the Vienna Staatsoper, the Teatro Colon in Buenos Aires, the Deutsche Oper and Staatsoper in Berlin, as well as the opera companies of San Francisco, Dallas, Houston, Santa Fe, Washington DC, and Los Angeles. He has appeared in concert with The Chicago Symphony, San Francisco Symphony, the St. Louis Symphony, The National Symphony, The Houston Symphony, The Halle Orchestra in Manchester, England, The Boston Symphony, The Minnesota Orchestra, the London Philharmonia Orchestra, at Amsterdam's famed Concertgebouw and at The Edinburgh Festival as well as with orchestras in Paris, Seville and Valencia. Halfvarson has appeared as 146 different characters in over 45 years on the professional stage.
Stephen A. Brown
A Londoner with a degree from the Royal College of Music and a diploma in Stage Management from the London Opera Center, Stephen A. Brown retired in 2017 from the Metropolitan Opera in New York, after a 38-year career. First as Stage Manager for 18 years, responsible for over seventy new productions, revivals and telecasts (including Wagner's Ring Cycle in 1989/1990), then as Company Manager, with oversight of the artistic budget and scheduling.
During this time, he also worked for a number of major international companies, including the Bolshoi Ballet, Nederlands Dans Theater and the Kirov Opera and Ballet. He was a regular judge for the annual Metropolitan Opera National Council Competitions and has been a frequent panelist on the internationally syndicated Saturday afternoon Metropolitan Opera Radio Quiz. He also wrote and presented the radio introduction to the 2005 broadcast of Wagner's Ring Cycle. In New York, Brown directed a number of Shakespeare and classical plays Off-Broadway and served as Secretary to the Broadway Equity Stage Managers' Association. He has also directed a number of operas regionally.
Brown's English theatre work includes work at London's Round House, and as Stage Manager at the Royal National Theatre of Great Britain under Sir Peter Hall.  He then served as the RNT's Company Stage Manager for the West End transfer of Julian Mitchell's play Half Life starring Sir John Gielgud, as well as for the Annual George Devine Gala at the Royal Court Theatre with Sir Laurence Olivier, Dame Peggy Ashcroft and Dame Maggie Smith and other theatrical luminaries.
Between 2005 and 2014, Brown worked as a consultant for the U.S. Department of State, twice visiting Tbilisi, Republic of Georgia, was well as for the Arts Council of Mongolia in Ulaan Baatar, and for the U.S. Consulate in Ekaterinburg in Russia's Ural Mountains. He spent two summers teaching and directing Mozart operas at Italy's Amalfi Coast Festival, and still (pre-Covid) regularly lectures on cruises of the Rhine and Danube rivers. He has offered lectures and master-classes on opera and singing at a number of American universities and conservatories, the Freie Universität in Berlin, and at the Victoria and Albert Museum in London.
This online event is £5 to all Wagner Society members (worldwide), £10 for non-members (Refundable on joining) and free for students/under 30s.  Please register your interest below and you will be sent a Zoom link in good time for the lecture, probably during the previous day. (Please do not contact us for the link unless it has not been received immediately before the lecture is due to begin.) If you wish to make a donation, please do so via our website (see button to the right) or contact treasurer@wagnersociety.org.   (NOTE: Joint members intending to watch this lecture together only need to register once.)
Description:

Details to follow