Grace Bumbry in conversation with Christopher Cook


6 February 2021




6:30 pm - 7:30 pm
Grace Bumbry in conversation
with Christopher Cook
Zoom Webinar: 6.30pm, 6th February 2021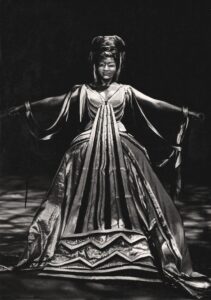 (Grace Bumbry as Venus)
Grace Bumbry
Grace Bumbry's obsession with singing began when she was still a child. That obsession – together with a ravishing natural voice, an extraordinary talent, and unwavering determination – led to one of the most illustrious operatic careers of the 20th century. What's more, when most eras can boast four or perhaps five superstar sopranos and even fewer superstar mezzo-sopranos, for more than three decades and for millions of opera lovers in the United States and around the world, Grace Bumbry was both. Her unique sound and her gripping stage presence, once experienced, simply cannot be forgotten.
Moving from one range to the other with breathtaking ease gave her a singular spectrum of roles from Santuzza (Cavalleria rusticana), Ortrud (Lohengrin), Dalila (Samson et Dalila), Adalgisa (Norma), Kundry (Parsifal), Eboli (Don Carlo), Orfeo and Carmen to Salome, Elisabeth (Tannhäuser), Norma, Gioconda, Aïda, Tosca, Medea, Elvira (Ernani), Leonora (Il trovatore and La forza del destino), Bess (Porgy and Bess), and Turandot.
Her international career began in 1960. She sang Amneris in Aïda–an epic challenge even for the most seasoned mezzos. She was just 23 years old and this was her operatic debut. And that debut wasn't in some backwater town where a few slip-ups would go unnoticed. It was at the Paris Opera, a performance that would be covered by the international press and analyzed note for note by one of the most sophisticated audiences in the world. It was an unconditional triumph that led to another major career milestone the following year and a performance that would change the face of opera forever.
In 1961, Wieland Wagner, grandson of Richard Wagner, cast Bumbry as Venus in a new production of Tannhäuser. As the Goddess of Love that seduces Wagner's noble hero, Bumbry would be the first black opera singer to appear at Bayreuth, the world's most revered shrine to the great composer and his art. It was a move that infuriated a good many conservative opera-goers, many calling it a cultural disgrace. Wieland Wagner shot back: "When I heard Grace Bumbry, I knew she was the perfect Venus. Grandfather would have been delighted." The media frenzy that ensued was global. The performance became one of the most celebrated in history. Thunderous applause rocked the theater for 30 minutes as the cast was brought back to the stage for 42 curtain calls. Jacqueline Kennedy subsequently invited her to sing at the White House. She won the public's adoration and along the way smashed a racial barrier that would no longer stand in the way of future generations of opera and classical singers.
Decades later, Ms. Bumbry was named Honorary UNESCO Ambassador, cited for her achievements as an artist and for her work in support of education, health, and youth causes. UNESCO Director-General Federico Mayor said: "Grace Bumbry has transcended stereotypes of operatic casting. Her magnificent voice has therefore been a means of opening wide the doors of the operatic world to blacks and other minorities."
Born Grace Ann Bumbry in St. Louis, the daughter of a railroad company freight handler and a school teacher, the future international opera star started singing around the family piano and then in the family church youth choir. She graduated from the first black high school west of the Mississippi, and won a radio talent competition at age 17. Her prize was a scholarship to the local music conservatory, only the conservatory was segregated and did not admit Grace into its classrooms but offered her private lessons instead. Her parents refused. Instead, she auditioned for Arthur Godfrey's popular "Talent Scouts" program. Her selection, Verdi's "O don fatale," moved the host not only to tears, but also to predict that "her name will be one of the most famous names in music one day." In a touch of supreme irony, that same day the U.S. Supreme Court announced its decision banning segregated schools.
She studied at Boston University and later at Northwestern, where she met her mentor, the acclaimed Lotte Lehmann, with whom she later studied at the Music Academy of the West in Santa Barbara, California. At the 1958 Metropolitan Opera auditions, she shared a first place win with the soprano Martina Arroyo. Later that year, she made her recital debut in Paris. In 1960, the same year as the famous Paris Aïda, she joined the Basel Opera. The famed impresario, Sol Hurok, brought her back to the United States in 1962 for an extensive national recital tour: a Carnegie Hall debut plus 21 cities, including her home town of St. Louis, where she thrilled 3,000 music lovers in the same auditorium in which Marian Anderson had thrilled her eight years earlier.
In quick succession, she made her debuts at the major houses: Royal Opera House, Covent Garden in 1963, La Scala in 1964, and the Met in 1965. Her first soprano role, Verdi's Lady Macbeth, also marked her first role at the Vienna State Opera. In 1966 she made her debut as Carmen at both the San Francisco Opera and at the Salzburg Festival, conducted by Herbert von Karajan.
The '70s saw Bumbry rise up to the challenge of a full transition from mezzo to soprano roles with a big, dramatic, rich, and distinctive sound. She sang Salome at Covent Garden in 1970, then her first Tosca at the Met in 1971, and Jenufa at La Scala in 1974. By 1977, she was ready for her first Norma and in 1978 sang both Norma and Adalgisa in the same production at Covent Garden, opposite Montserrat Caballé and Josephine Veasey.
At the opening of the new Opéra Bastille in Paris, she appeared in Berlioz's Les Troyens as Cassandre with Shirley Verrett as Dido for most of the run, but at the final performance Bumbry sang both the soprano and mezzo roles. Her operatic farewell came in Lyon in 1997 as Klytämnestra in Elektra, but she continues to sing at 81 years young. On the concert stage Bumbry can still be heard in recital halls and theaters, the likes of the Théâtre du Châtelet in Paris, Wigmore Hall in London, New York's Lincoln Center, Berlin's the Classic Open Air Festival and Vienna's Musikverein, to name a few. In opera Bumbry made special appearances in Bernstein's Candide at the the Deutsche Oper Berlin as well as the title role of Tchaikovsky's Pique Dame at the Vienna State Opera.
Bumbry is now a much-valued juror, serving major competitions around the word, and a sought after teacher and clinician in both Europe and America. Perhaps her most notable off-stage contribution to music was the creation in the mid-'90s of her Grace Bumbry Black Musical Heritage Ensemble, a group she remains very proud of. The Ensemble is a choir devoted to preserving and performing traditional Negro spirituals and gospel on the concert stage. "The spiritual, for me, is the American classic, as Brahms and Beethoven are European classic," said Bumbry in a New York Times interview. In 2009 she founded The Grace Bumbry Vocal and Opera Academy in Berlin, which was dedicated to The Big Voice, and has since developed THE BUMBRY WAY, an online master class series for the young professional singer. Making its debut in the spring of 2019, Bumbry's explained THE BUMBRY WAY concept and purpose to the press this way: "By sharing first-hand knowledge that I have gathered over the span of an extraordinary 50 plus year career on the world's greatest stages, THE BUMBRY WAY aim's to identify, ignite the extraordinary, and then cultivate the very best young operatic talent. Music requires we go beyond ourselves, to dare live outside the box. It becomes necessary for the promising singer to realize that their beautiful voice alone is never enough. Only then can one begin to scratch the surface on their professional singer's journey toward greatness. Leaving no stone unturned, I drive home the importance of the text in music and in honoring the composer's exact vision – the key to developing superior musical taste. In addition, the singers will learn to Expect Success, Prepare for the Applause, and do it THE BUMBRY WAY." Visit us at http://www.gracebumbry.com for more information.
Her teaching activities this season include a stint as an honored judge and master class teacher at the Orchestre Symphonique de Montreal Standard Life Competition.
Christopher Cook
Christopher Cook began his career in television, producing for BBC 2 and Channel 4. He broadcasts regularly on BBC Radios 3, 4, and 5. He is a regular contributor to BBC Music Magazine and has written for Gramophone and International Record Review.  He teaches for the University of Syracuse on their London Programme and for the British American Drama Academy, and was a Visiting Professor at the University of the Arts, London. He has chaired pre-concert events for the BBC Symphony Orchestra, the Orchestra of the Age of Enlightenment, the Hallé Orchestra, the London Philharmonic Orchestra and Study Days at Glyndebourne and at the Royal Opera House, where he also interviews for their 'In Conversation with …' programmes. He has chaired English National Opera's pre-opera series for eight years. Christopher was the Director of the Cheltenham Festival of Literature in 2004 and Chair of the Cheltenham International Music Festival until 2013.
This online event is £5 to all members, £10 for non-members (Refundable on joining) and free for students/under 30s.  Please register your interest below and you will be sent a Zoom link in good time for the lecture, probably during the previous day. (Please do not contact us for the link unless it has not been received immediately before the lecture is due to begin.) If you wish to make a donation, please do so via our website (see button to the right) or contact treasurer@wagnersociety.org.   (NOTE: Joint members intending to watch this lecture together only need to register once.)
Description:

Details to follow