Lilli Lehmann: The Inimitable, with Paul Thomason


1 December 2021




6:30 pm - 8:00 pm
Lilli Lehmann: The Inimitable,
with Paul Thomason
ZOOM WEBINAR: 6.30pm, 1st December 2021
Over 90 years after her death, Lilli Lehmann is still a figure with which to be reckoned in the world of opera. And with good reason. Her operatic career lasted 45 years, during which she sang 170 roles in 119 operas, then she sang concerts for another 15 years. She was a renowned teacher (her pupils included such legendary singers as Olive Fremstad, Geraldine Farrar, and Melanie Kurt). She wrote several books, worked tirelessly toward the founding of  the Salzburg Festival (becoming its artistic director and singing in productions of Don Giovanni and The Magic Flute), and is forever associate with the works of Richard Wagner, appearing in the very first production of the RING in 1876 and being widely acknowledged as THE Isolde and Brünnhilde of her day. Oddly enough, her Met Opera debut in 1885 was as Carmen! Her first recordings were not made until she was 58 and approaching the end of her operatic career, but their 37 selections show that, despite years of singing heavy dramatic roles, her voice had retained the flexibility that allowed her to begin as a lyric coloratura. All of this meant she is sometimes referred to as a vocal miracle but, in fact, her voice—and career—were the product of superb schooling, relentless hard work, brutal honesty about what she could, and could not do, and a determination to mine every facet of the roles she portrayed. We'll examine some of the recordings and dip into what she (and some of her colleagues) had to say about the art of singing and the world of opera in which they became legends.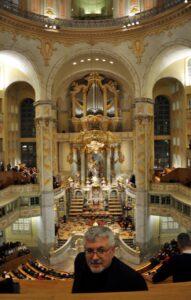 Paul Thomason
Paul Thomason has contributed to the Metropolitan Opera Playbill for over two decades, and regularly writes for the San Francisco Opera, Los Angeles Opera, Chicago Symphony, Aspen Music Festival, the Juilliard School, and Berlin's Pierre Boulez Saal. The London Philharmonic used his program notes for their recent concert performances of the RING operas. He is a regular guest on the award-winning podcast Aria Code, and has appeared on Met Opera radio broadcast intermissions, as well as writing scripts for the company's Saturday afternoon broadcasts and the historic broadcast series on Sirius-XM satellite radio. He has taught at the San Francisco Conservatory Extension Division, given pre-performance lectures at the Kennedy Center in Washington DC, SF Symphony, SF Opera, Stern Grove Festival, and produced radio programs for classical music stations in both New York City and San Francisco.
All tickets for this online event are £5 but free for students/under 30s (with proof of status).  Please register your interest below and you will be sent a Zoom link in good time for the lecture, probably during the previous day. (Please do not contact us for the link unless it has not been received immediately before the lecture is due to begin.) NOTE: Joint members intending to watch this lecture together only need to register once.
Description:

Details to follow