Wagner in the "Wrong" Language, with Paul Thomason


30 June 2021




6:30 pm - 7:30 pm
Wagner in the "Wrong" Language,
with Paul Thomason
ZOOM WEBINAR: 6.30pm, 30th June 2021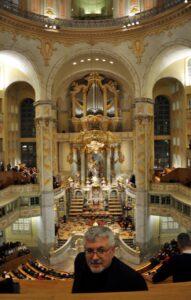 Though today's international opera houses usually give Wagner's operas in German, that has not always been the cast. Some of the world's most prominent theaters routinely performed opera in the language of the audience until the second half of the 20th century. This meant It was not unusual for major singers to perform their parts in several different languages, depending on the location of the theater. The result was many important singers recorded parts of their Wagnerian roles in languages other than German—allowing us to travel back in time and listen to Wagner flavored with different accents.
Paul Thomason
Paul Thomason has contributed to the Metropolitan Opera Playbill for over two decades, and regularly writes for the San Francisco Opera, Los Angeles Opera, Chicago Symphony, Aspen Music Festival, the Juilliard School, and Berlin's Pierre Boulez Saal. The London Philharmonic used his program notes for their recent concert performances of the RING operas. He is a regular guest on the award-winning podcast Aria Code, and has appeared on Met Opera radio broadcast intermissions, as well as writing scripts for the company's Saturday afternoon broadcasts and the historic broadcast series on Sirius-XM satellite radio. He has taught at the San Francisco Conservatory Extension Division, given pre-performance lectures at the Kennedy Center in Washington DC, SF Symphony, SF Opera, Stern Grove Festival, and produced radio programs for classical music stations in both New York City and San Francisco.
This online event is £5 to all members, £10 for non-members (Refundable on joining) and free for students/under 30s.  Please register your interest below and you will be sent a Zoom link in good time for the lecture, probably during the previous day. (Please do not contact us for the link unless it has not been received immediately before the lecture is due to begin.) If you wish to make a donation, please do so via our website (see button to the right) or contact treasurer@wagnersociety.org.   (NOTE: Joint members intending to watch this lecture together only need to register once.)
Description:

Details to follow