ANNUAL GOODALL AWARD DINNER 2019


20th March 2019




7:00 pm - 11:00 pm
WAGNER SOCIETY ANNUAL DINNER AND GOODALL AWARD PRESENTATION 2019
WINNERS: MARTIN & LIZZIE GRAHAM AND THE LONGBOROUGH FESTIVAL OPERA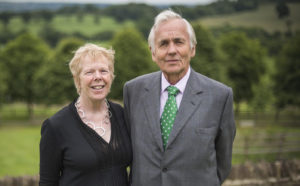 7pm for 7:30pm to 11pm, Wednesday 20th March 2019, Royal Over-Seas League, London
(Dress code: Lounge suit)
The Annual Dinner of the Wagner Society will again be held at the Royal Over-Seas League in St James, central London.  The award goes in 2019 to Martin and Lizzie Graham of the Longborough Festival Opera and the recital will be from Lee Bisset, herself a Longborough veteran and a renowned Isolde there.  Lee will also make the presentation.
Members and their guests are most cordially welcomed to this dinner and we also extend this invitation to members of the other United Kingdom Wagner Societies as well as those in Europe and around the world.
Tickets £95 each, which includes a Champagne reception, four course meal with wines and and after dinner entertainment from young Wagnerian singers before the presentation of the Goodall Award.
Tickets are available on this website by clicking the link above. You can pay with a credit or debit card or by PayPal. You can also register for the event and then send a cheque or bank transfer to the society. If you prefer not to use the website for payment, then please send your cheque to the society's treasurer at 15 Gibson Square London N1 0RD. Numbers for this event are limited by the size of the venue and so we would urge interested members to book early. If none of the above methods of purchasing a ticket works for you, you can contact us by e-mail at – ticketsecretary@wagnersociety.org
When applying for tickets, pleasure ensure that you state your name and also the names of any guests for whom you are buying tickets (so that the seating plan can be compiled).  Please also remember to inform us if a vegetarian alternative is required.
Venue Phone: 020 7408 0214
Venue Website: http://www.rosl.org.uk/
Address:
Over-Seas House
, Park Place, St James's Street,
London
,
SW1A 1LR
,
United Kingdom