Wilhelm Furtwängler


5th November 2019




6:00 pm - 9:00 pm
ROGER ALLEN
Wilhelm Furtwängler: Pro and Contra Wagner
6pm (Reception) for 7pm (Lecture) to 9pm
5th November 2019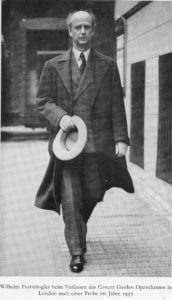 Wilhelm Furtwängler's standing as one of the most acclaimed of all Wagner conductors is assured. His recorded performances of the Ring and Tristan have acquired almost mythical status.  Yet Furtwängler's relationship with Wagner was by no means straightforward. In his youthful correspondence he writes that 'I simply cannot endure Wagner under any circumstances'. Although he was later to modify this view, his attitude to Wagner's works remained ambivalent throughout his years of fame.
This lecture will investigate some of the reasons for that ambivalence.  In the course of the discussion recorded extracts of live performances from amongst others the Bayreuth Festival Lohengrin (1936) and the Covent Garden Ring cycles of 1937/8 will be interrogated, not only as exemplars of past performance practice, but also as primary historical evidence of a particularly troubled chapter in European history. Roger will at the same time consider some of the critical responses both pro and contra his recent book, Wilhelm Furtwängler: Art, Politics and the Unpolitical.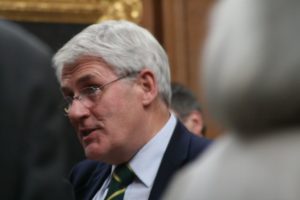 Roger Allen is Emeritus Fellow in Music of St Peter's College and a Member of the Faculty of Music, University of Oxford. He is active in the musical life of Oxford as a pianist, specialising in lieder accompaniment. He is a member of the editorial board of The Wagner Journaland recently guest edited the July 2019 issue. His current research includes issues of harmony and musical syntax in the music of Wagner and Brucknerand an investigation of the idea of the organic metaphor as a means of understanding musical process.He has published widely in the UK, USA and Germany. His most recent publications include substantial contributions to The Cambridge Wagner Encyclopedia (2013); Richard Wagner's'Beethoven' (1870): A New Translation (2014); and Wilhelm Furtwängler: Art, Politics and the Unpolitical (2018)
BOOK OFFER: Roger Allen's new book: Wilhelm Furtwängler – Art and the Politics of the Unpolitical is available to members booking a ticket for the all in price of £40.
Tickets £20 including refreshments.  (£5 for Students and under 30s with free membership and if they have previously provided proof of status.)
Tickets are available on this website by clicking the link above. You can pay with a credit or debit card or by PayPal. You can also register for the event and then send a cheque or bank transfer to the Society. If you prefer not to use the website for payment, then please send your cheque to the Society's Treasurer at 15 Gibson Square London N1 0RD.  If none of the above methods of purchasing a ticket works for you, then you can contact us by e-mail at – ticketsecretary@wagnersociety.org
Address:
Barter Street
,
London
,
WC1A 2TH
,
United Kingdom