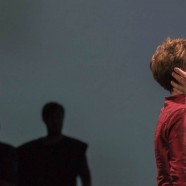 THE WAGNER SOCIETY
PRESIDENT: Dame Gwyneth Jones, Kammersängerin
VICE PRESIDENT: Sir John Tomlinson
HONORARY MEMBERS
Norman Bailey CBE, Dame Janet Baker CH DBE, Graham Clark, Dame Anne Evans DBE, Catherine Foster,             Dame Felicity Lott, Sir Donald McIntyre, Anthony Negus, Klaus Florian Vogt
Richard Wagner stands as a colossus in the field of operatic endeavour. Composer, librettist, author, conductor and director, he followed an extraordinary inner artistic vision, inspired by his admiration for the classical Greek tragedians and Beethoven, to forge daring new paths through the often mediocre and moribund operatic practices of his day in pursuit of an ideal: a union of all the arts at the highest level through music drama. From the romantic yearnings of the early Der fliegende Holländer, through the exploration of power and love in the monumental tetralogy, Der Ring des Nibelungen, to the moving contemplation on compassionate love in the final work Parsifal, a recurring theme is that of redemption, often, but not always, guilty man redeemed by self-sacrificing woman.
In view of the layers of meaning evoked by the text and the intoxicating power of the music, not to mention the controversial theories and determined personality of the man himself, the literature on Wagner is amongst the largest of that ever compiled on any individual, living or historical.
Wagner societies worldwide are passionately committed to keeping the flame burning and welcome newcomers and fellow-enthusiasts to join them and discover more about the man, the myths and the music.
AIMS
Founded in 1953, The Wagner Society exists for the promotion of knowledge, understanding and appreciation of the life and works of Richard Wagner and is affiliated to the Richard Wagner Verband International. The Society's activities include regular meetings, talks, study days, concerts and master-classes held in Central London, for which a modest charge is made. Members are kept up-to-date with events through a quarterly publication, Wagner News, as well as through this website.
YOUNG ARTISTS' PROGRAMME
For many years the Wagner Society has been supporting young artists through bursaries and awards for lessons and coaching. It has also funded a number of staged and concert performances to give young artists the opportunity of appearing before the public.
SIR REGINALD GOODALL MEMORIAL AWARD
The Sir Reginald Goodall Memorial Award is presented to individuals or theatre groups considered by the Society's committee to have been of outstanding service to Wagner and his music. Recent recipients of the award include Dame Gwyneth Jones, Dame Anne Evans, Keith Warner, Sir John Tomlinson, Bernard Haitink CH KBE, Graham Clark, Wolfgang Wagner, Plácido Domingo, Sir Antonio Pappano, David Syrus, Anthony Negus and Catherine Foster.
THE INTERNATIONAL ASSOCIATION OF WAGNER SOCIETIES
As an official Wagner Society, we are a member of the Richard Wagner Verband International. The International Association of the Wagner Societies unites 139 regional Wagner Societies around the world, with a total membership of over 22,800 people! To see further details on the Verband, please see
here
.